Value Added Food Processing
Value Added Food Processing
Our world renowned agricultural industry, experience in food production, and favorable business environment provide many opportunities for companies in the food processing industry. Iowa is a major player when it comes to feeding the United States. It is the number one producer of corn, hogs, and eggs, and comes in second in the production of soybeans (USDA 2013)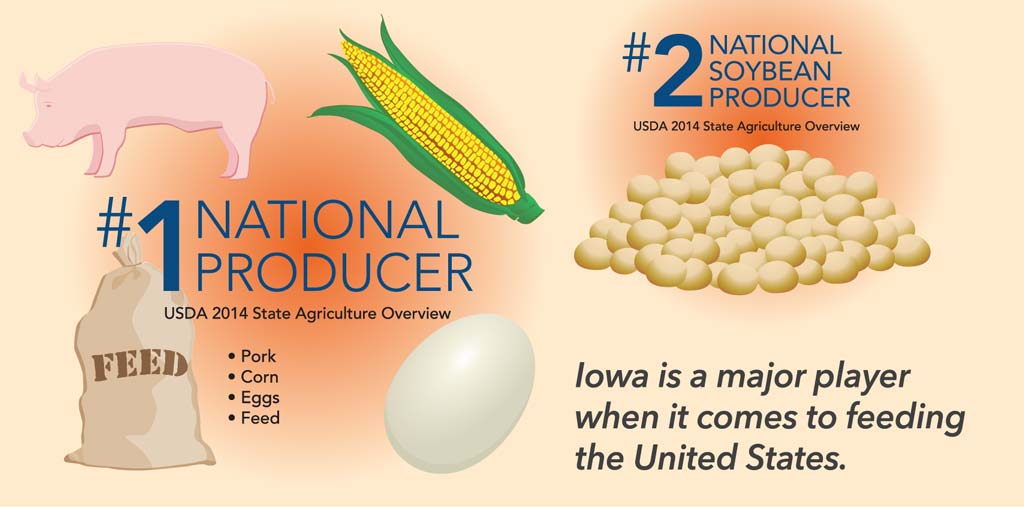 ---
Access To Markets
With its centralized location and convenient Interstate access, companies in Western Iowa have access to an abundance of raw materials and a market of over 25 million people within a day's drive (500 miles). (source: census.gov)
---
Western Iowa hosts a wide variety of food processing companies who employ over 3,000 people in the region.
| EMPLOYERS | Primary Product | Employees |
| --- | --- | --- |
| Smithfield Farmland Corp. | Pork | 1,600+ |
| Proliant, Inc. | Animal Protein Products | 100-200 |
| Quality Food Products | Pork | 100-200 |
| Snappy Popcorn Company | Microwavable Popcorn | 50-100 |
| ConAgra Foods, Inc | Packaged Foods | 0-50 |
| Cookies, Inc | BBQ Sauces | 0-50 |
| Noble Popcorn Farms | Specialty Popcorn | 0-50 |
| Michael's Bakery Products | Flour Mixes & Dough | 0-50 |
---
Population & Labor Force
Population of 8 County Region
88,951
Labor Force
46,615
Western Iowa has the unique advantage of having a significant concentration in several food processing industries.
| Food Processing Industry | Jobs in Region |
| --- | --- |
| Animal (except Poultry) Slaughtering | 1,734 |
| Meat Processed from Carcasses | 324 |
| Poultry Processing | 203 |
(Source: EMSI/Economic Modeling Systems Inc., 2014)
---
Food & Beverage Industry Concentration
Animal (except Poultry) Slaughtering
Rendering & Meat Byproduct Processing
Soybean & Other Oilseed Processing
Meat Processed from Carcasses
Poultry Processing
Fruit and Vegetable Canning
Other Animal Food Manufacturing
All Other Miscellaneous Food Manufacturing
---
Utilities
Utilities in the Western Iowa region are easily accessible, inexpensive, and reliable. Gas and electric are supplied by 10+ utility companies, providing reliable service at competitive prices. Contact a Western Iowa Advantage representative for information on rates and availability. Fiber is available in the region and expansion is underway.
Water
Water is an essential component for the food processing industry, and Western Iowa has access to plentiful, affordable and clean water. 
---
Tax Advantages
No sales and use tax on manufacturing machinery and business equipment purchases.
No property tax on new industrial machinery and business equipment.
No personal property tax, including corporate inventories of goods-in-process, raw materials and salable goods.
Iowa Corporate Income Tax
50% deductibility of federal taxes from Iowa corporate income
Single-factor, non-unitary based only on the percentage of total sales income within the state
---
Growth In Food Processing Industry
Growth of the food processing industry in the region exceeds that of the U.S. by over 28% (From 2010-2014)
WESTERN IOWA REGION
30%
UNITED STATES
1.7%
(Source: EMSI/Economic Modeling Systems Inc., 2014)
---
Company Profiles
Smithfield Farmland
Smithfield Farmland is the world's largest pork producer, so it makes sense that they have a large location in Iowa, the number one state in hog production. Their values also align well with that of the Western Iowa Advantage region. "We always conduct ourselves with respect for our animals, communities, customers, employees and environment" (Smithfield Foods-Our Company). The company has 43 locations nationwide and is now in 12 countries, but the Denison location alone employs over 1,500 people
Cookies Sauces and Seasonings
Don't be deceived by the name: Cookies actually specializes in barbecue sauces. When Speed Herrig's father told him that if he didn't farm he would never make a living, Speed was determined to prove him wrong. In 1984 he bought the company from Cook himself and now Cookies' sauces can be found on the shelves of large chain grocery stores around the country. Located in Wall Lake, Iowa, Cookies is a family business and the culture reflects that. While Cookies employs fewer than 20 people, its presence is apparent in the city and the region as a whole. In Western Iowa, the food processing industry has seen a 5-year growth rate of 14% and this can be attributed partly to the success of Cookies.
---
"With new recruits, if they stay a year, they'll stay forever."
 Doug Clausen, President of VT Industries
---
Contact us today and see how easy it can be!
Western Iowa Advantage
712.792.9914
info@westerniowaadvantage.com
P.O. Box 768
Carroll, IA 51401
Now Viewing: All
Sorted by: Name