Merchant Baseball is Back In Carroll County, Iowa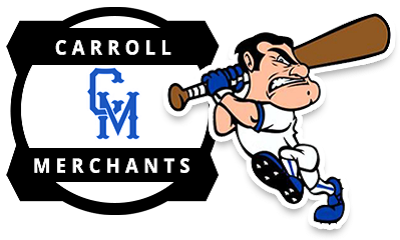 Baseball is back in Carroll County! During a summer of rising prices and costs, easy-on-the-wallet family-friendly entertainment smashed it out of the park in Western Iowa! Fans came out in force — 8,498 to be exact — to support the Carroll Merchants, with an average home game attendance of 472.
The Carroll Merchants — which last competed in the Pioneer League from 2016–2019 — joined the history-rich M.I.N.K Collegiate Baseball League for the 43-game 2022 season. This summer league — started in 1910 with a six-team charter — operates nine teams throughout the midwest to provide a venue for college players who wish to develop their skills to enter the Major League Baseball Amateur Draft. Teams from Missouri, Iowa, Nebraska, and Kansas — hence the acronym M.I.N.K. — make up the league. Seven Merchant players were named to the M.I.N.K. All-Star Team.
Residents were treated to 21 home games at $5 per ticket with free attendance for kids 12 and under, thanks to the 36 corporate, program, and game sponsors. The home closer on July 23rd was open gate, free to all.
"Merchants Baseball, drawing players from across the country to experience life in Carroll County, is a unique experience and will hopefully create a lifelong bond with the community as players grow and prosper either as future big-leaguers or professionals in other fields," said Chris Whitaker, Local Assistance Director---Region XII Council of Governments. "The community benefits economically as opposing teams and fans visit and stay in Carroll. Several players' families visit Carroll throughout the summer to see their relatives play for the Merchants."
Thirty-three coaches and players representing 18 colleges and universities from 13 States and Canada made up the Merchants. Beyond the generous sponsorship and enthusiastic attendance, the community supported the team by volunteering as host families to give the players room, board, and a sense of home, as is the tradition of summer collegiate league ball. The team gave back to the community by hosting free youth clinics.
The Carroll Merchants originally appeared on the scene as part of the Iowa State Baseball League from 1949–1955, then as part of the Central States League from 1956–1959. The Carroll Merchants were reborn in 2016-2019 as part of the Pioneer Summer Collegiate Baseball League (a league similar to the Iowa State League of old). Unfortunately, the pandemic forced the league to cease operations, but the Merchants returned strong in 2022 as a member of the M.I.N.K. League.
Historic Merchants Park has always been the home of the Merchants since it was constructed in 1949. The park received the Iowa State Diamond of the Year Award in 2005 and 2013, and in 2016 underwent $1 million in renovations — over $400,000 of which was private donations. Upgrades included ADA seating, restrooms, concessions, and exterior fencing. Other improvements included plaza development and historical displays to showcase Carroll's Merchants Park Baseball Stadium and the community's longstanding baseball history.
In 2022 and 2023, an additional $900,000 worth of upgrades are planning including field lighting, fencing, bleacher improvements with ADA access, press box renovations, and extended baseline screening.
Merchants Park also hosts high school and community baseball. "In 2021, the Iowa High School State Baseball Tournament returned to Merchants Park with a commitment to play in Carroll County through 2024, and hopefully beyond," said Whitaker. "American Legion Baseball remains a constant at Merchants Park. And of course, both the Carroll Tigers and Kuemper Knights Baseball teams call Merchants Park home."
"With the return of both the Iowa High School State Baseball Tournament (Classes 1A and 2A) and the Carroll Merchants' move to the M.I.N.K. League, additional renovations and upgrades are needed to continue to make Merchants Park a high-quality outdoor recreation and tourism venue for years to come," said Whitaker. "The City of Carroll staff, the Iowa High School Athletic Association, the Carroll Merchants Baseball Club, and Carroll Community and Kuemper Catholic athletic directors and baseball coaches worked to develop the list of needed improvements for the historic stadium. These concepts were formalized by Shive-Hattery Architecture and Engineering."
Recreation amenities like Merchants Park not only improve quality of life, they work as significant economic drivers. Beyond dollars spent by visitors, research shows a community's quality of life and quality of place work to attract and retain workers. A recent study on smaller communities has found that amenities such as recreation opportunities are likely as big of contributors to healthy local economies as traditional "business-friendly" measures such as lower taxes and labor costs. Smaller hometowns with a higher quality of life experience both higher employment and population growth than similarly situated communities, including those that rank high by traditional economic competitiveness measures.
---
Western Iowa, with its committed workforce, strong sense of community, and quality of life, should be high on the list of locations for companies looking to grow and improve. Contact Western Iowa Advantage to learn more about the region, workforce, and available sites.